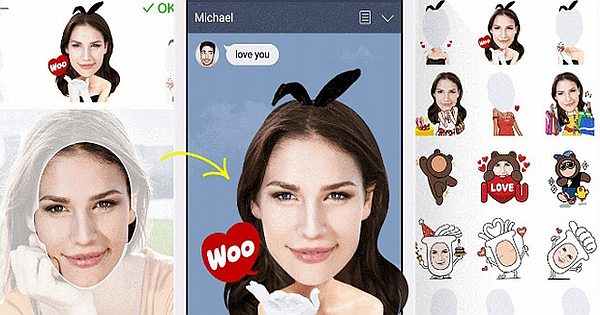 Line , popular messaging application, is growing rapidly and is making some developments. Line app has already its popularity for its sticker chat concept. Moving ahead with the concept, Line corporation has now introduced a new application integration called YCON , that will allow selfies to be used like stickers. It has good integration with Line Selfie application. Ycon is basically a selfie sticker creator application. There were unofficial version of application but none of them had the better integration like Ycon now has. Seeing the good compatibility and its no. of use , Line Corporation decided to opt this application and enhanced its integration. What does Ycon do ? Ycon allows you to choose your selfie taken from your mobile phone . It has a  good range of sticker  templates to choose from.
Ycon for Android and Iphone
There are many options with in the application itself . Its easy to use mechanism and good integration will surely increase the level , Line corporation is looking for its Line messaging application. Ycon is available in Android and Iphone platform. It supports a good range of languages and is available all over the world. Previous unofficial version of Ycon  needs to be started separately from your phone menu. Even then it was a top application in App stores. But after good integration , users are provided the option for Ycon within Line Messaging chat option. Users will also be able to add texts and make some few edits on their new selfie sticker as a whole.
Transparent background is another  good feature added in official Ycon . It wasn't  available in previous version. It will really give a good feel of stickers in chat box. Ycon  allows its user to create selfie stickers much easier . You just need to choose a selfie, fit your face only in the frame , provided by application. Then choose a sticker template. They have over 1200  templates on their section and that's it. All this with self describing design and interface. Further you can use text with stickers too as told above. Ycon is  available on Line application in + option , you see in chat box. Thus  allowing users to send stickers without interruption of closing and opening a new application . This is a great plus for its users.
It is a free application and a great addition to Line family , you can download it from your respective app store. You need to give it a try as it is fun and enjoyable.